Green Time Painting & Design: Expert Ottawa House Painters
Welcome to Green Time Painting & Design, your premier choice for environmentally conscious painting and design solutions in Ottawa, Ontario. Our dedicated team of Ottawa painters specializes in providing top-quality interior painting and innovative wall designs.
We are committed to reducing our environmental footprint using eco-friendly paint products with low VOCs and employing sustainable practices.
With a focus on professionalism and customer satisfaction, we're here to help you create a beautiful, eco-conscious living space that you'll love.
This error message is only visible to WordPress admins
There has been a problem with your Instagram Feed.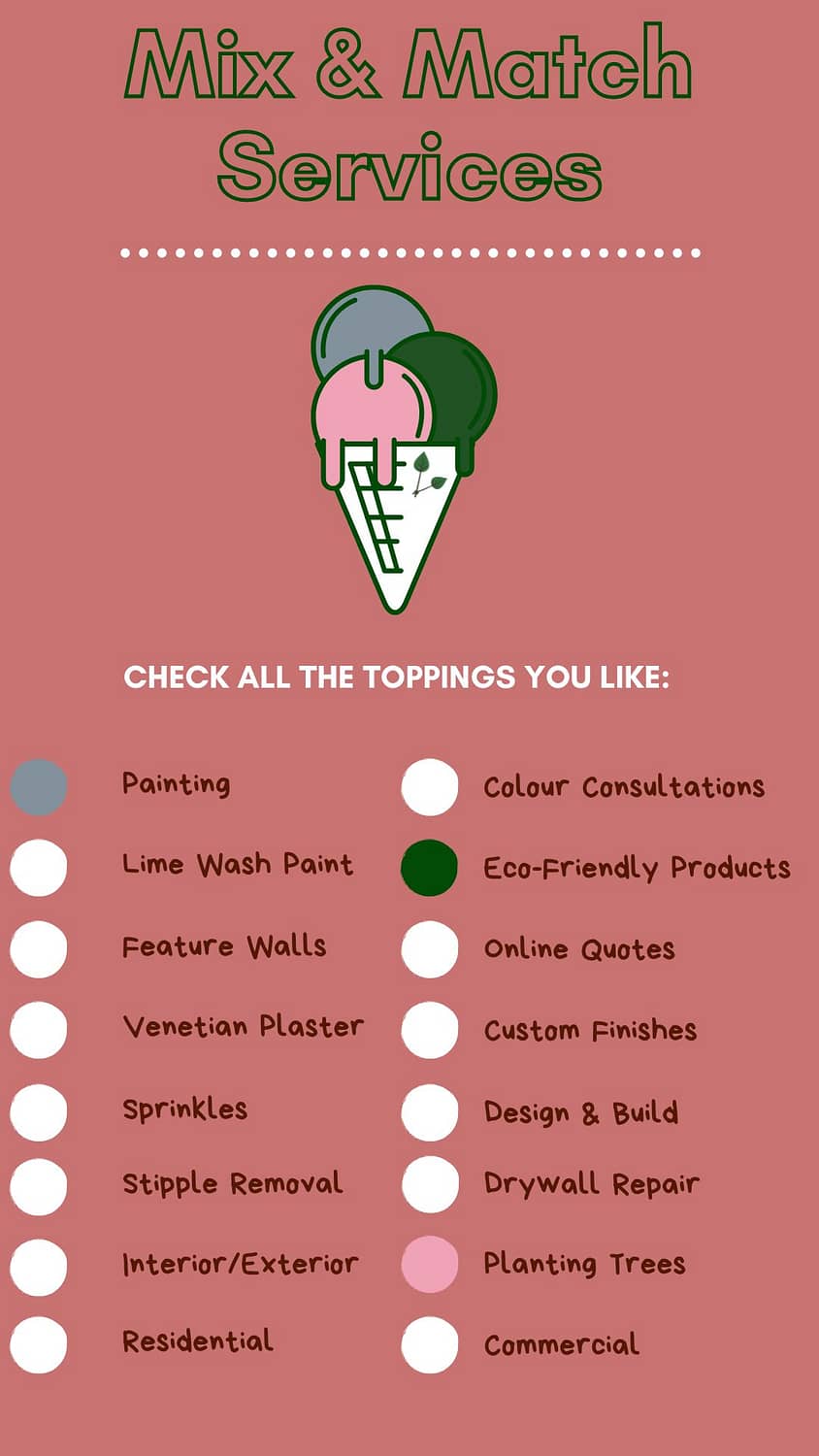 Why Choose US?
Green Time Painting & Design is your top choice because we excel in painting and interior design services, all while prioritizing eco-friendly practices. You get the best of both worlds with us: exquisite design and environmental responsibility.
1

tree

planted for ever room painted!
We take pride in offering paints that are low in odour and have minimal to zero Volatile Organic Compounds (VOCs). In addition, we harness the beauty of natural decorative materials to craft exquisite walls and ceilings, ensuring both environmental responsibility and stunning aesthetics.
Our Comprehensive Services:
Painting

Colour Consultation


Venetian Plaster

Stipple Removal

Drywall Repair

Eco-Friendly Products


Planting a tree for every room painted
Our team of Ottawa painters is prepared to rejuvenate, restore, and redesign your home or business.
Tailored Services for Every Need and Profession
Homeowners
Our Ottawa house painters repair, patch, and paint your walls to make your home look better than new. We also offer interior design consultation to help you pick the perfect colours and furniture for your home. The paints and products we use are safe for your home, and better yet, most of our feature walls are made from natural materials?
Business owners
Refresh your establishment, increase curb appeal, increase property value, and attract clients to your business by painting the interior and exterior of your business. Our commercial painters love helping fellow businesses in Ottawa by bringing their property back to life.
Real Estate Professionals

Green Time Painting & Design turn-key solutions for Real Estate Professionals when they have a property that needs to be refreshed. Our Painters and Interior Design Consultants work with Property Managers, Income Property Owners,  and Real Estate Developers to get their property ready for listing. We work and coordinate with local House Cleaners, Furniture Suppliers, and Real Estate Photographers in Ottawa to get your property painted, staged, cleaned, and photographed in one package.
Interior Designers / Architects / Decorators
Put your artistic talents to the test! customize your walls, ceilings, and surfaces with our beautiful decorative finishes?  We collaborate with interior designers and architects in Ottawa and around Ontario to create custom finishes using venetian plaster, limewash, concrete, metal and more – now that's one-of-a-kind.  
Popcorn Removal / Stipple Ceiling Removal

Get rid of popcorn ceilings in Ottawa with our professional and efficient service. Our experienced team specializes in safe and thorough popcorn ceiling removal, leaving you with a smooth and updated surface. Say goodbye to outdated textures and hello to a modern look

Robbie went to great lengths very graciously to remediate my issue. Thank you Robbie.
Michael Bingham
2022-06-01
Robbie and Patrick are absolute gems. They are polite, clean, easy to communicate with and most of all talented painters with experience who love what they do. I highly recommend choosing Green Time Painting & Design-- you'll be delighted with the results.At my request, Robbie did a colour consultation during my quote which added incredible value to my experience with Green Time Painting and Design. Robbie was full of ideas, but really took the time to listen to what I wanted for my home. His thoughtful and enthused suggestions gave me the confidence to execute a beautiful and creative colour scheme using various shades of the same colour.Robbie and Patrick also repaired dry wall, completed a very tall accent wall, touched up baseboards, and put a fresh coat of paint on a few ceilings all while working around our schedule and young children.The project was finished early, which was a surprise and a delight. Our home was left clean and the quality of the job is above and beyond what we had hoped for.Thank you Robbie and Patrick for making our new house feel like home.
snowroadstation
2022-04-27
Great team, Patrick and Robbie were professional and delivered a quality job. Highly recommend them.
Green Time Painting was quick to respond to my request for a quote of a single room. They had completed the job within of week after the quote, such tremendous work. Thanks!
I found these folks on kijiji and left a message. They were so quick to reply and to send someone for an estimate. It was Robert who came for the estimate, same gentleman who did our painting. They also recommended the quantity of paint which turned out to be very accurate. They also recommended a place where I was able to get a discount. As for the painting job, it was performed by a lovely couple, Robert and Heather. Both Robert and Heather were very professional and respectful. They were super focused on their job and super clean. These guys did not leave anything for us to clean after them. I would definitely hire them again and highly recommend them.
Robbie was able to get someone in my new condo and got the job done over the weekend, which was very impressive. Justino was very thorough with everything. He took the time and did a walk-through with me at the end to make sure everything was done to my satisfaction. He was happy to fix all the smallest details. I would definitely recommend and use them again.
Natalie Eljouni
2021-12-06
Green Time did an outstanding paint job at our new place in Orleans. We needed patching and painting done at our new place before we moved in and we hired Green Time Painting because we saw the reviews. Great work! Thank you!
Incredible experience with Robbie. He arrived on time, was very attentive to detail and went above and beyond.Quote was reasonable and the overall quality was above what we expected.
Green Time Painting and Design were excellent. We bought a new house and right before we moved in, our painter had to cancel on us. After calling around Green Time stepped in and we were blown away with their work. They were responsive, quick, and overall, incredible. Their customer service is top notch, and their attention to detail is above and beyond. I have already recommended them to family and friends and will continue to recommend them to anyone who asks.
We worked with Green Time Painting for a few years for preparing our homes for sale. Great team and excellent work.
Step 1: Get a Quote – fast 
Send us a description of the areas you would like painted, along with pictures, videos, and/or a link via email, text or Whatsapp or Book on our online calendar for a virtual Facetime quote or on-site visit
We make it easy for you to get a price for painting and designing your interior. No more back-and-forth to receive a price. 
Step 2: Schedule a date
Schedule a date suitable for you!
Once you're happy with the final price and scope of work, we schedule a date to begin.
The Green Time Painting & Design team works in the morning, afternoon or evening to get your house painting or commercial painting project completed beautifully and on time.
Step 3: We make it Beautiful
From A-to-Z: planing-designing-repairing-painting-decorating-cleanup.
Before any work gets started, the Green Time Painting & Design walks you through the design process from start-to-finish. Once our painters are on the site, our team will safely prepare the project area. The area of work will be completely covered and safe to work. Once we're ready to begin the work –  we do whatever it takes for your project to look amazing.
Book An Estimate
Your information is confidential
Areas We Serve In Ottawa:
Barrhaven
Bell's Corner
Carleton Place
Carp
Constance Bay
Crystal Bay

Cumberland
Downtown
Dunrobin
Glebe
Gloucester
Huntclub
Huntley
Kanata
Manotick
Navan
Nepean
North Gower
Orleans
Osgoode
Perth
Richmond
Rockcliffe Park
Rockland
Russell
Sandy Hill
Stittsville
Westboro