For Those Who Love Beauty and the Environment
Interior Design Consultations
Ottawa, even more Beautiful.
We combine Interior design, environmentally-friendly painting, and decorative wall designs to create beautiful spaces for you, your family, and for Ottawa. The Interior Design community in Ottawa has many amazing and talented designers so why so should consider us? Here are a few benefits of choosing Green Time Painting & Design:
Team Members: We are a team of Interior Design Consultants, House Painters, Artisans, and Decorative Finishers in Ottawa – Which means our Interior Design Consultant works directly with you and fellow team members to provide interior design solutions flawlessly with less room for error and more room for artistic expression.

Partners: we are happy to say that Green Time Painting & Design works directly with local Ottawa businesses to provide our clients with more convenience, better value, and less headaches. Our goal is to make life easier and more beautiful for you by coordinating and combining our services with local furniture suppliers, house cleaners, and photographers.

From A-to-Z: we get your property ready for moving-in and moving-out. You can mix and match services to create your perfect package. For example: 1. You can combine painting and house cleaning services to get your income property ready to rent. 2. you can mix colour consultations, painting, furniture staging, and real estate photography to get your property ready for sale.

Decorative Finishes and Artisans: our handcrafted decorative finishes and wall designs are created by an Interior Design Consultant, and Artisans to transform your walls, ceilings, floors, and surfaces into a work of art.

Our team includes more than house painters. Our Artisans have worked and trained around the world – from Lebanon, Europe and Australia to bring Ottawa the most beautiful wall finishes the world has to offer. We provide handcrafted decorative finishes that are truly custom-tailored to your style and interior space. Our decorative finishes can be applied to regular drywall without needing to perform structural changes. That means with these decorative finishes we can create custom walls, ceilings, floors, and surface designs that transform your entire interior into stone, cement, marble, metal, and more. Your Venetian plaster marble walls can match the furniture, your surfaces will complement the light fixtures, and your ceilings will wow anyone who lays eyes on it. Imagine your stipple ceiling transforming into a giant piece of marble stone that shines like glass.
Our Design Process: 
Free Consultation: Half an hour to 1 hour

Phone Consultation: Interior Design Consultant will be speaking with the client to understand the project.

Setting-up meeting with a client on-site

A walkthrough of the space to discuss the design problems and needs

Questions to ask for us to get to know you, your style and how you want the space to function

Budget, timeline and scope of work are discussed
Once you are happy with the design and project scope we are ready to move forward. The service fee, which is a flat rate is collected and a site measure appointment is booked. Your design solution will include:
Contract documents

Programing

Schematic design

Design solution presentation

Design development

3D Design completion

Completion design 

Making your dreams come true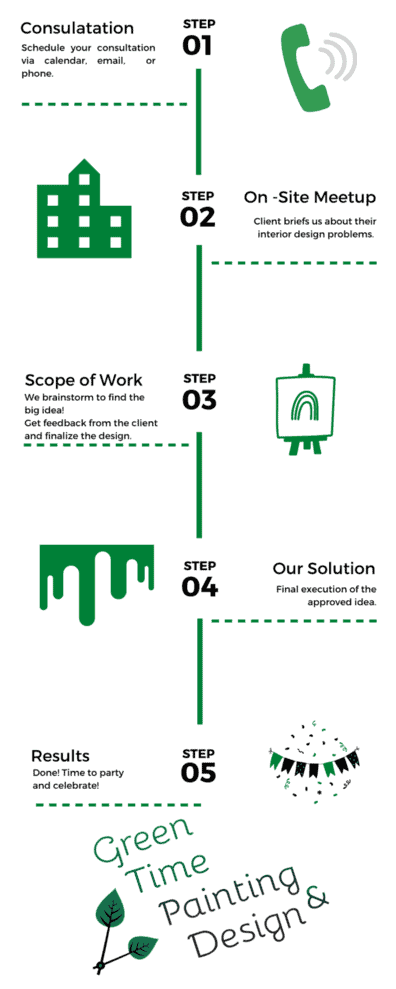 Design & Build: 
Space Planning: to existing interior space & new shell interior space

Barrier-free design

Kitchen & bath design

Custom cabinets

Furniture design / Staging

Lighting plans

Wall finished

Paint consultation

Specialty custom designer wall finishes

Window Treatment
Design types/ styles:
Modern Design

Classic Design

Contemporary Design

Minimalist Design

Traditional Design

Transitional Design

French Country Design

Eco-friendly sustainable Design:

specialty in Building Biology
[ameliacatalog category=1]
[ameliacatalog category=2]